Unraveling Projector Brightness for the Perfect Display Namaste dosto! Aaj hum iss blog mein projector brightness ke bare mein baat karenge. Kya aapne kabhi projector chalaya hai aur usme lumens ka jadu dekha hai? Agar haan, toh shayad aapne lumens ko samajhna try kiya hoga. Lekin kai baar yeh lumens ka mamla kuch confusion create kar deta hai. Isliye aaj hum projector brightness ke lumens ko demystify karenge taki aapko ek acchi buying decision lene mein madad mile.
Lumens kya hai?
Sabse pehle, hum lumens ke bare mein thoda sa jaan lete hain. Lumens, projector ki brightness ko measure karne ke liye ek unit hai. Jitne zyada lumens, utni zyada brightness! Projector jitne lumens produce karta hai, utni zyada light screen tak pahunchti hai, aur isse screen par picture aur videos clearly dikhte hain, chahe aap andhere kamre mein ho ya phir kisi brightly lit room mein.
Kis tarah lumens ka use hota hai?
Aap projector kharidne ke liye market mein jayenge, toh aapko kai alag-alag lumens ratings milenge. Lekin sawal yeh hai ki aapko kitne lumens ki jarurat hogi? Iska jawab dene ke liye, aapko kuch factors consider karne honge:
Room Lighting (Kamra mein roshni):
Agar aap projector ko dark room mein use karenge, toh kam lumens ki jarurat hogi. Lekin, agar aap projector ko bright room mein use karna chahte hain, jahan roshni kaafi ho, toh aapko zyada lumens ki zarurat hogi.
Screen Size (Screen ka size):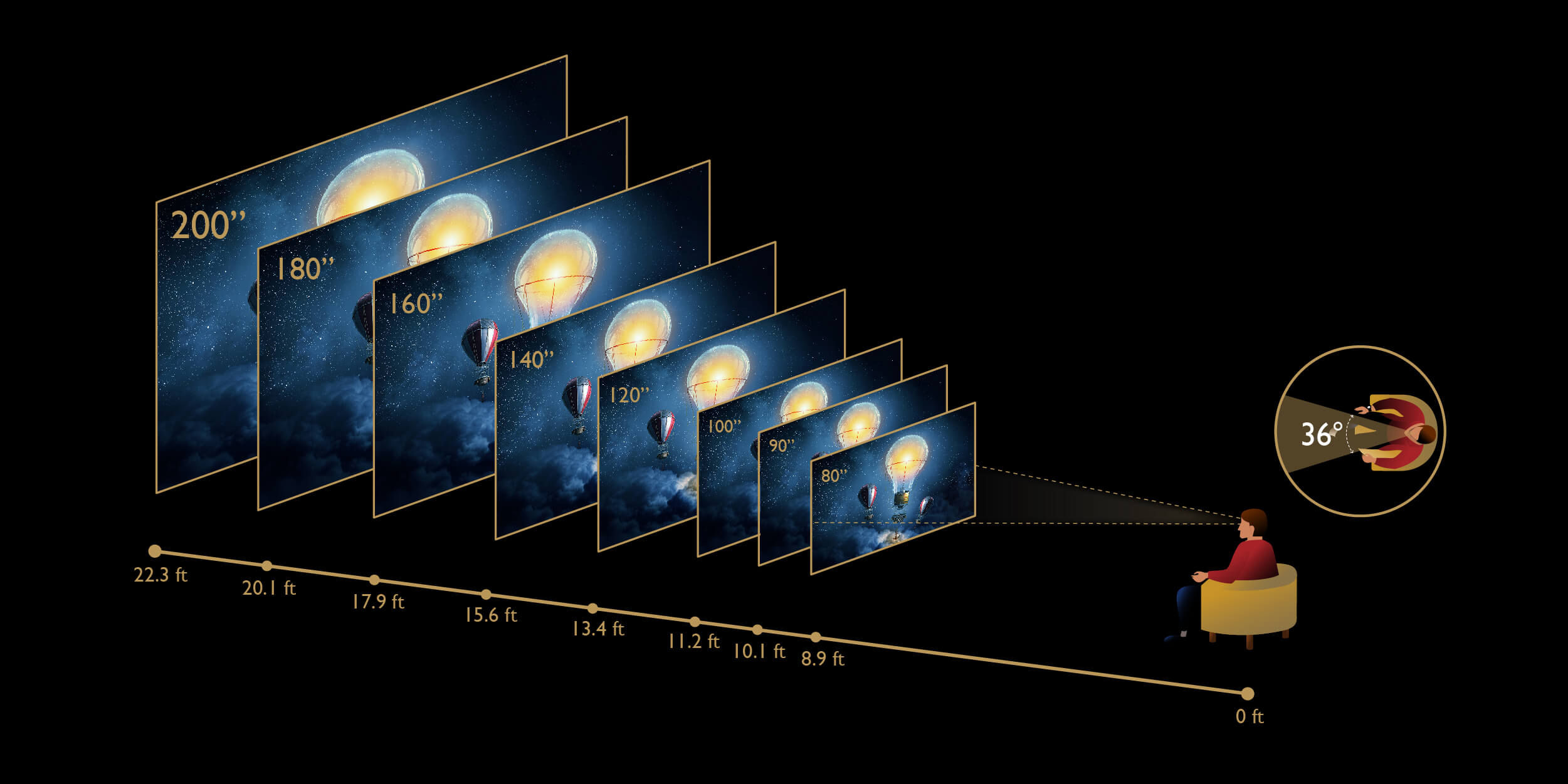 Screen ka size bhi ek important factor hai. Badi screen ke liye zyada lumens chahiye honge taki picture bright aur clear dikhe.
Projection Distance (Projection doori):
Agar projector screen se door hai, toh lumens ki quantity kam ho jati hai. Isliye projector ki placement ka dhyaan rakhein.
Intended Use (Udeshit Upayog):
Aap projector ko kis tarah use karna chahte hain, yeh bhi ek factor hai. Home theater ke liye, aapko high lumens wala projector chahiye, lekin presentations ya office meetings ke liye, medium lumens wala bhi kaafi hoga.
Lumens ki range kya hoti hai?
Aam taur par projectors ki lumens range 1000 se lekar 5000 tak hoti hai. Low-end projectors kam brightness offer karte hain, jabki high-end ones bright and vibrant images provide karte hain. Isliye, aapko apne requirements ke according lumens range choose karna hoga.
Do's and Don'ts:
Do apne room aur intended use ke hisab se lumens ki quantity decide karein.
Do lumens rating ko ek important factor maanein, lekin sirf lumens par nirbhar na rahein. Picture quality, resolution, aur contrast ratio bhi consider karein.
Don't sirf high lumens wale projector ko choose karein agar aapko itni brightness ki zarurat nahi hai.
Don't low-quality projectors ko choose karein sirf cost-cutting ke liye. Achhi quality ke projectors mein aapko better performance aur longevity milegi.
Toh dosto, ab aap lumens ke bare mein experts ki tarah samajh gaye hain. Apne projector ko select karte waqt, lumens rating ko dhyaan mein rakh kar, apne specific requirements ke according ek behtareen projector choose karein. Ab aap apne favorite movies, games, aur presentations ko enjoy kar sakte hain ek brilliant display ke saath!
Umeed hai ki yeh information aapke liye helpful thi. Projector ki duniya mein naye updates aur technology ke liye humare saath bane rahiye. Dhanyavaad aur khush rahein!
FAQs:
1. What are lumens, and why are they essential for projectors?
A: Lumens are the units used to measure the brightness of projectors. They determine how much light the projector emits, which directly affects the quality of the displayed images and videos. Higher lumens result in brighter and clearer visuals.
2. How do I know how many lumens I need for my projector?
A: To determine the required lumens, consider factors such as the room's lighting conditions, screen size, projection distance, and intended use. Darker rooms and smaller screens may require fewer lumens, while brighter rooms and larger screens may need more.
3. What is the typical lumens range for projectors?
A: Projectors generally come with lumens ranging from 1000 to 5000. Low-end projectors have lower brightness, while high-end ones offer more vibrant and brighter images.
4. Is lumens rating the only factor to consider while choosing a projector?
A: While lumens are essential, they are not the sole factor. Consider other aspects like picture quality, resolution, contrast ratio, and your specific needs to make an informed decision.
5. Should I always go for a high lumens projector?
A: Not necessarily. Choose a projector with lumens that match your requirements. Going for unnecessarily high lumens may lead to discomfort and unnecessary costs.
6. Can I compromise on quality and opt for a low-cost projector?
A: Quality should not be compromised. Low-quality projectors might not provide the best performance and longevity. Invest in a good-quality projector for a satisfying experience.
7. Can lumens affect the viewing experience in different environments?
A: Yes, lumens play a significant role in the viewing experience in different environments. They determine how well the projected content is visible in various lighting conditions.
8. How can I find the right balance between lumens and other projector features?
A: Understand your specific needs and use cases. Research different projector models, read reviews, and consult experts if needed. Consider factors like lumens, resolution, and contrast ratio together to find the perfect projector for your needs.
9. Can I adjust the lumens output on a projector?
A: Yes, many projectors come with adjustable brightness settings. You can adjust the lumens output according to the environment and your preferences.
10. Are lumens the same as resolution?
A: No, lumens and resolution are different aspects of a projector. Lumens refer to the brightness, while resolution indicates the number of pixels the projector can display.
Hopefully, these FAQs have addressed some of your questions about projector brightness and lumens. If you have any more queries or need further assistance, feel free to reach out to us. Happy projecting!